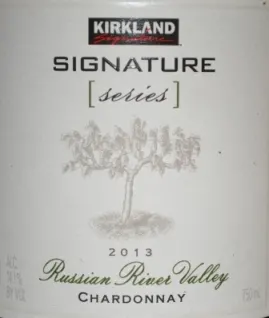 Last year the Kirkland Russian River Chardonnay (2012 vintage) was a much discussed topic on the site. I reviewed it and really enjoyed it. One of our other reviewers Michael, felt differently, that the wine was dry and lacking real character. So when I saw the 2013 vintage hit my Costco, I knew it had to be explored (and I look forward to Michael chiming in once again on this one once he's had a chance to sample it).
I like this year's wine, but perhaps not as much as I did in 2012. This is still a good buy at $13, although not quite as complex as last year. If you enjoy Russian River Chardonnay then you know there are few priced this low, and I think this is still a safe buy. Not incredible, but pretty good at this price.
Light aromas again on the nose, not too much drawing you in; kind of a stony, minerality. What I think this wine has is balance. It's not too much of anything. Flavor is there, mostly apple, pear, a touch of lime perhaps. Small amount of oak and cream on the finish. The finish dies a little faster than I remember last year's wine doing. If you like big oak/butter, this one is not for you. It's more of a Sauvignon Blanc drinkers Chardonnay.
Last year I went 90 points (which looking back was pretty high), but I'm going to have to come down a bit on this one. It's not a bad wine. I'd just like to see a bit more going on, more complexity to suck you in, more of that signature Russian River vibe.
CostcoWineBlog.com Rating: 87 Points
Costco item number: 789895