This is really a beautiful wine, a classic Napa red blend, utilizing 5 Bordeaux varietals in an expression that is totally Napa from start to finish.
This wine is from the excellent '13 vintage (my favorite of the '12-'14 trifecta of great years) and while it is drinking nicely now, it has plenty of room to run and develop further in the years to come. Without a doubt I plan on cellaring at least a couple of these if they are still available on my next trip to Costco.
It's medium to full in body, with a great structure and balance that speaks to its potential for aging. Flavors were a combination of red and dark fruit, with plum and then leather, anise notes; the wine finishes extra dry, chalky and peppery making this wine irresistible with a nice juicy steak (which is how we enjoyed it).
That excellent finish goes on forever and really might be the highlight of a wine with many favorable things to note. The varietal makeup is 65% Cabernet Sauvignon, 22% Merlot, 5% Petit Verdot, 5% Malbec, 3% Cabernet Franc.
Although it's not an inexpensive wine, I feel it's a nice buy among similarly priced Napa Cabs and a good example of the quality bump you get when you step up from the $25-$35 range.
The retail price is $65 and online you can find this wine for closer to $55. Costco's price is $49.99. I was really happy with this one, so we'll be adding it to our Recommended Wine picks.
We just learned select Costco stores are also selling this wine in Magnum bottles for $95. Here's a photo of the magnum with its Costco item number.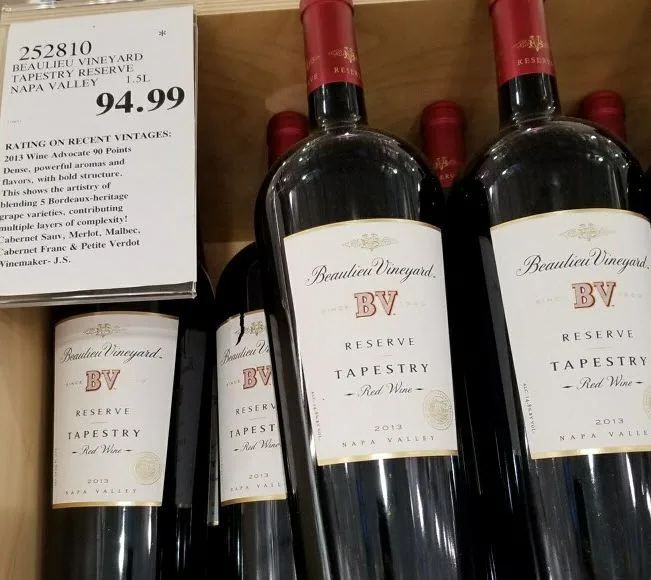 [also note, we mentioned this bottle in a round up of California wines we published last month]
CostcoWineBlog.com Rating: 92 points
Costco item number: 123407
Alc. 14.8%
Purchased at Costco in: Atlanta, GA (Cumberland)