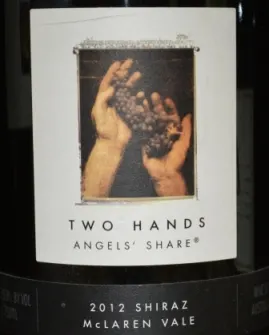 This McLaren Vale Shiraz from Two Hands hits big in every way. I have tried prior vintages of the higher priced Bella's Garden Shiraz from Two Hands and thoroughly enjoyed them. This lower priced entry ($26 at my Costco) turned out to be a real find.
I posted a photo to Twitter showing how the Costco bin had the choice between the 2012 and 2013 vintages. If you're looking for a particular vintage of a wine, I suggest you dig through the bins just to check if the one you want is there. I'm doing this now on the 2011 Napa Cabs, digging through the bottles hoping to find the 2012s that are starting to arrive. (I summed up this and many other Costco wine buying tips in this story).
Ok, back to the Angel's Share. This wine is big and dense, loaded with flavor. Any red meat dish would be an ideal companion here. Pours blood red in the glass. Nose was peppery with herbal aromas. Flavors in the mouth are spicy cherry, jammy blackberry and blueberry, along with cola (a little Dr Pepper); the wine finishes dry, slightly smoky and spicy.
This is a great buy on a stellar under $30 wine. I imagine this wine could hold up and perhaps improve over the next few years. So I may be heading back to cellar one or two for a bit to see how they develop. I'll report back in 2017.
CostcoWineBlog.com Rating: 90 Points
Costco item number: 930944
Purchased at Costco in: Atlanta, GA (Kennesaw)