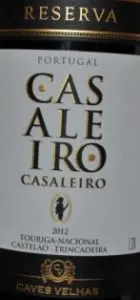 Holy smokes, this wine is a steal for only $7 at Costco. If you are not drinking wines from Portugal and Spain right now, you need to hop a country or two from where you might be tasting and experience the insane value from these regions right now.
Maybe the varietal makeup is a little different and steers some people away. This wine is 40% Touriga-Nacional, 30% Castelao, and 30% Trincadeira. I wish I could act like I know a lot about these grapes, but I don't. All I can tell you is that I've had them before in other Portuguese wines, and I liked them then as much as I do now. I think we will have a future book about wines from Portugal. Keep an eye out.
This wine is fairly young as a 2012 but is drinking very nice. Nose of ripe fruit and red berry, which continues onto the palate, opening up with more strawberry, cherry and red licorice (more Nibs actually), the ripe fruit is balanced with nice acidity, and a finish that is dry and lasting. This is a true stand out not only for $7 but maybe under $20.
CostcoWineBlog.com Rating: 89 Points
Purchased at Costco in: Atlanta, GA
Costco item number: 810240