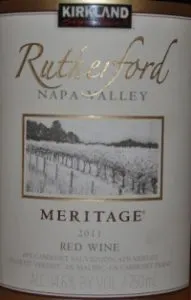 Great offering here; probably one of the better Kirkland values I've come across in a while. I scooped this up for $13.99 but swear I've seen it in stores for closer to $20.
I'm a big Rutherford fan so am naturally attracted to this one, but it's a very nice blend from one of Napa's premier areas at a bargain price. Still a bit young and closed on the nose, but after a little time it opened up nicely. Vibrant blackberry and dark fruit flavors, maybe a little black licorice, brown sugar and tobacco mid-palate. Finish is superb and lasting.
The blend is 49% Cabernet Sauvignon, 42% Merlot, 5% Petit Verdot, 3% Malbec and 1% Cabernet Franc (I actually guessed a bit more Cab Franc, tastes like it to me). Really blended perfectly. They did a nice job on this one for only $14.00.
CostcoWineBlog.com Rating: 90 Points
Costco item number: 999309