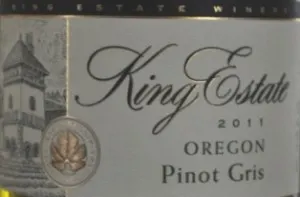 It's been a while since I reviewed one of these King Estate Pinot Gris even though they are always in stock it seems. The last one was the 2007 vintage. I think these are excellent whites at a very good price ($13.89 at my Costco).
The 2011 is another winner. The wine is very light, almost see through but it really packs in a lot of flavor. Nose has fresh citrus and honeysuckle aromas, and then strong apricot, citrus, lemon, maybe a little grapefruit flavors. The finish is perfect.
Nice one all around, and a summertime favorite at our household. Oregon Pinot Gris is almost always a solid pick.
CostcoWineBlog.com Rating: 90 Points
Costco item number: 232249