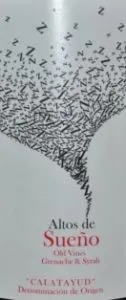 Wine: Altos de Sueno
Winery: Castillo de Maluenda
Varietal(s): 75% Grenache, 25% Syrah
Vintage: 2010
Region: Calatayud Appelation, Aragon Region, Spain
Costco price: $9.89
Reviewed by: Redneck Wine Guy
As I write this, the South has settled into a cold, rainy streak. The rain seems to never stop, flooding trout streams and keeping wildlife bedded down. The waders and camouflage stay put up and the pajamas stay on….sometimes all day long. What I do love about this time of year is the comforts of soul food and red wine. From stews to roasts, Tempranillo to Bordeaux, the season offers a plethora of opportunity to tour the world in the comforts of home by pairing foods from one country with wines of another. Today – Spain.
It is safe to say that Spain has caught the eye of the wine world, and in recent years has taken the US market by storm. Some are coining it the "Spanish Wine Renaissance", bringing a country rich in wine history back into the conversation after disappearing from world view for many years. The options are seemingly endless, with many years' worth of wine exploration that await.
I paired this Altos de Sueno from the Aragon region of Spain with a venison stew made from a hunt from last year. The grapes in this blend (Grenache/Syrah) compliment and pair well with game meats and each bring out the nuances in the other. The wine comes off very young, moderately jammy, and probably in need of a little more time in the bottle. The nose and palate are vibrant with cherry, blackberry, licorice, and is super fruit forward. Mildly to moderately acidic. Candidly, I was not all too impressed on Day #1. What I did find most interesting is Day #2 – both the wine, and the stew, were phenomenally better! I expected that with the stew, but not with the wine. The "fruitiness" was still there, but was tamed and the palate much more well-rounded. Good everyday, non-pretentious wine. Going against the grain, I give it two ratings: Day #1 and Day #2.
Redneck Wine Guy Rating: 85/89
Purchased at Costco in: Atlanta, GA
Costco item number: 803597