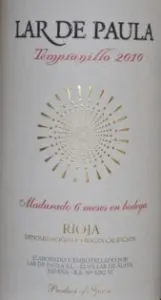 This Rioja is just perfect all around and a joy to drink. The timing couldn't be better as the tannins have really softened and the wine just cushions in the mouth.
Great balance of every component. The nose is fresh, floral and a little spicy. Big cherry and rich red fruit flavors on the palate surrounded by those soft tannins. Drink after drink you want to go in for more. This leads into a stunning finish with hints of oak and spice that lingers for a long time.
I misplaced my purchase notes on this wine so I don't have a Costco item number or the price I paid. I believe it was around $15-$20 which makes this an incredible buy. Definitely grab this one if you see it, especially if you like big, juicy and finely executed worldly reds.
CostcoWineBlog.com Rating: 92 Points