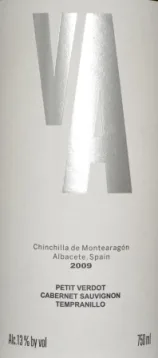 I had a really cool experience when I was at Costco and purchased this wine. I encountered a guy scrolling through his iPhone and I just happened to glance at his screen in the hopes I might see him looking at this site, and alas…that's exactly what happened. We had a great conversation that followed and walked the aisle at my local Costco talking about the different bottles and I made some suggestions on wines he might enjoy. I had always hoped this would happen.
This wine was one of the ones we found that day, and I had not tried it before, but the perfect blend (for my tastes), it's $9 price tag and its Spanish origins made this a must try. It turned out to be a fantastic value buy.
This wine consists of 38% Petit Verdot, 38% Cabernet Sauvignon and 24% Tempranillo. I can't remember the last time I've sampled such a blend.
Dried flowers and dark berry fruit on the nose; full bodied with stiff tannins that seem to be gently maturing; more red fruit flavor in the mouth, herbal, stone, chalky toward the sticky finish. A nice drink.
This is a fun wine for under $10 and another Top Pick for me.
CostcoWineBlog.com Rating: 90 Points
Costco item number: 891513
Purchased at Costco in: Atlanta, GA
[In case you were wondering about the other wines we discussed that day, the gentleman indicated he was interested in Italian wines, particularly Chiantis. I recommended the Frescobaldi Nipozzano, which unfortunately must have sold through already, the Monsanto Chianti, which we did find, and the Allegrini Veronese Palazzo Della Torre, another favorite of mine. He bought a few bottles of each and left with a nice case of good wine.]