This is a really interesting wine that was recommended by a reader and I got lucky and found it on my next visit to Costco. The label is very distinct, so super easy to find when you know what you're looking for. I had to do some digging around online to learn more this one, as I was curious about the 94 points from Parker (sticker is front and center on the neck of the bottle) as well as the varietal makeup in this Spanish (La Mancha) red blend.
Turns out, yes, this is a 94 point Parker wine that Costco is selling for $11.99. I come across wines with that 'score to price ratio' maybe once a year, or once every other year. But depending on how much weight you give to Parker points, that might not mean much (I usually find it as a driver of interest, not so much a guarantee of what I'll find). So here's what we have: this is a blend made from a burgeoning Spanish producer in an awesome region that is comprised of 30% Syrah, 20% Merlot, 20% Cabernet Franc, 20% Cabernet Sauvignon, and 10% Petit Verdot. And it is outstanding, no doubt, maybe not 94 points for me, but definitely a super solid buy for $11.99.
Right now, (Aug, 2016) is a nice time to enjoy this wine as it has a little age on it, but it could run for a while longer. I gave it a nice decant since the small sample taste I poured from the bottle was pretty closed. But once this wine got some air on it, it started to show what it's made of.
Nose is dried dark fruit, some smoke, dried flowers, tobacco; in the mouth flavors of black fruit, blackberry, plum, dark chocolate and anise; finishes forever it seems. After a second glass that had a little more air time, I'm liking this one even more, and starting to think about stocking up. This might be a case buy. Thanks for the recommendation 'srh." Keep 'em coming.
CostcoWineBlog.com Rating: 92 Points
Costco item number: 1014982
Purchased at Costco in: Atlanta, GA
Alc. 13.5%
More News:
CostcoWineBlog.com Ranked #9 Among Best 100 Wine Blogs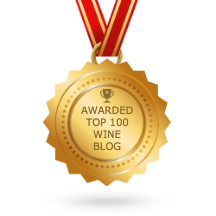 Feedspot recently released their "Best 100 Wine Blogs on the Web" and CostcoWineBlog.com came in at #9 on the list among some pretty big company. I want to thank all of the readers of this site for your support. {see the full list}