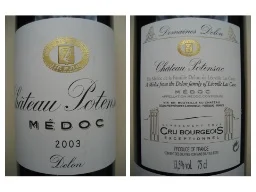 The following is a guest review from BernieTheWineSlut who discovered the 2003 vintage of the Chateau Potensac at Costco for only $35. This a great Bordeaux at a great price, and one that I'll be keeping an eye out for at my Costcos. The last time I saw the Potensacs at Costco was the prized 2005 vintage, so you never know what you might find.
Chateau Potensac is in the northern Medoc region of Bordeaux, not far from the Ocean, on the "left bank" of the Gironde (on your left if you're a water molecule floating downstream) and is owned by the Delon family of Leoville-Las-Cases fame.
I found this bottle at a Costco wholesale outlet.
Okay, I can hear you thinking, "Wait, Costco doesn't sell wine in Ontario!"
True. This one was bought in the US of A where it's legal to buy wine almost anywhere! Down here it's almost as easy to buy wine as it is to buy a semi-automatic assault rifle.
But the biggest advantage of Costco is price. $35 bucks for a wine that costs $62 back home. Sweet. And while you're at it, you can pick up 32 cans of tuna, 120 rolls of toilet paper, and a gazebo.
One of the hottest years in Bordeaux on record, apparently, was 2003. But I guess "hot" doesn't necessarily mean "good" (as it does when describing, say, women), because 2003 isn't normally considered a great bordeaux vintage. But not a bad one either.
Potensac is a medium- upscale producer that's been available for a number of years. Usually reliable tasty bordeaux. This one was interesting because it's already bottle-aged, as higher end bordeaux usually should be when you drink it.
And this one does not disappoint: This classic bordeaux still has a deep dark ruby colour (when bottle-aged, eventually wines lighten up and become more brick-red in colour, but the good ones stay purplish longer).
A long sniff reveals notes of sweet berries and violets, and a hint of cigar. Earthy chocolaty flavours are backed by smooth tannins and a lengthy ending with a slightly raisin-like taste to polish it off.
Love this stuff. Too bad our totalitarian regime (when it comes to booze) here only allows 2 bottles per person when we re-enter Canada– otherwise mega duties apply. Bunch of party poopers.
So when you're down visiting in the sunny US, or if you live there, head to your nearest Costco, and stock up!
Score: 93