This is flat out an insane Costco wine buy for only $10.49. Good Pinot is hard to come by at this price point, but this Firesteed bottle from Oregon's Willamette Valley is really a standout.
It's funny because the wine steward at my Costco (who doesn't know I do this site) was hounding me as I was selecting my wines, basically following me around and commenting on the wines I was choosing.
I appreciate the effort, and he sincerely wanted me to find good wines. He never asked me why I was taking pictures of everything, but I digress…Ironically, this was the first bottle that he recommended and I already had one in my cart. When he saw it, he immediately said, "buy more. Trust me, it's excellent."
I should have listened to him. I hope this wine sticks around for a bit, and I really hope you can find it in the stores near you. It's frankly worth going elsewhere to look for it if your Costco isn't carrying it, or runs out. If you like Pinot, this is a good place to invest.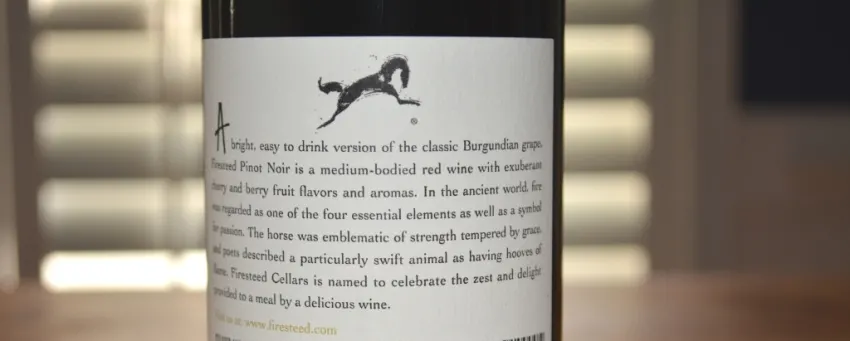 It's light on the pour, and medium in body; aromatic nose that is floral with berries. In the mouth is a nice flavor profile highlighted by red fruit, cherry, cranberry, red licorice, a little Dr Pepper and subtle pepper spice towards the close.
It's not an overbearing or complicated wine. Rather, it's simple, direct and super easy to just enjoy sip after sip. We paired with a ground bison and cauliflower rice dish (all Costco too, love that ground bison) and it was delicious. This is one of those wines you can really pair with anything.
Great buy, and Wine Enthusiast agreed awarding the wine 91 points and noting it's retail $17 price tag, that makes Costco's price look even that much better.
CostcoWineBlog.com Rating: 90 points (a CostcoWineBlog recommended wine)
Costco item number: 799579
Purchased at Costco in: Atlanta, GA
Alc. 13.8%