I recently had the pleasure to taste three Pinot Noir offerings from La Crema side-by-side, which for a wine nerd like myself is about the best use of time that I can imagine.
I tasted the Sonoma Coast, Monterey, & Willamette Valley Pinots, all 2014, although I'm not sure if the Monterey & Willamette wines are available at Costco. The Sonoma Coast Pinot has been available for a while in various Georgia clubs and hovers around $19 a bottle.
The wines had a similar appearance in color and clarity although the Willamette Valley Pinot was slightly deeper in color. The Monterey Pinot had the most aromatic nose while the Willamette wine had a virtually undetectable aroma. The Sonoma Coast Pinot was close behind the Monterey in terms of aromatics.
I tasted the Sonoma Coast Pinot Noir first, which was my second favorite of the three. The nose jumped out of the glass with red cherries and black tea. The palate was less fruity but balanced with earthy tones and dusty tannins. The wine is approachable and satisfying, what you might expect from something in this price range.
The Monterey Pinot Noir was my favorite of the three. I felt it had the most concentrated flavor and was well balanced with fruit ripeness & acidity. I also prefer the label more, which shouldn't matter but does.
It may have been unfair to the Willamette Valley Pinot for me to taste it alongside it's riper and less dry cousins. I simply am not a fan of the super-Burgundian (i.e. very light & dry) Oregon Pinot Noir wines, and although the La Crema is not light, it is dry and less fruit-forward than the others.
I have had some fantastic Willamette Valley Pinots that tended towards the dark fruit and spice style of a Russian River Valley version while still maintaining the earthy, wet-forest-floor funk that Oregon Pinots are often loved for. This, in my opinion, is when you have a home-run Willamette Pinot Noir.
The La Crema pinot was just so-so. Wine Spectator gives the Sonoma Coast Pinot Noir 88 points and describes "an elegant frame that imparts freshness." The publication gave the 2014 Monterey Pinot Noir the same rating while the Willamette Valley wine scored 86 points. I give the Willamette Pinot 86 points, the Sonoma Pinot 87 points, and the Monterey Pinot 89 points.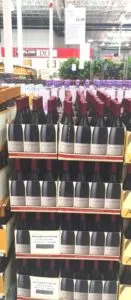 Regardless of where you purchase these wines, the Monterey wine will usually be the least expensive of the three while the Willamette pinot will set you back the most.
They shouldn't be too far apart in price, perhaps a few dollars only, and as I mentioned before, I've seen the Sonoma Coast Pinot in multiple Costco clubs at a price that is usually less than most grocery stores. I would say that it's definitely worth the $17-$20 price tag.
CostcoWineBlog.com rating: 87 Points
Purchased in Cumming, Georgia
Costco Item Number: 54846