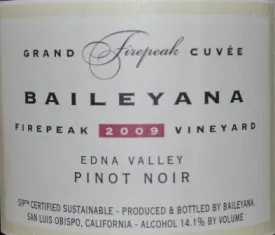 This is an awesome, highly approachable, drink anytime, Pinot Noir. I love Pinots because you can pair them with just about anything, and in the summertime, when the whites start blending together, a Pinot is always the solution.
This bottle is $17.99 at Costco, and it is a fantastic Pinot in my opinion. It's as smooth as smooth gets. I usually hate using the word "smooth" to describe wine but in this case, it tastes near perfect. This wine is fresh, opening up with red berry flavors with some vanilla, a little pepper, subtle tannins and a lasting finish. I enjoyed this bottle with a spicy veggie stir fry and it was absolutely perfect.
I'm a big fan and plan on adding a couple to the cellar. I'm also putting this on our Silver Rated wine list, which typically doesn't see many wines under $20. And if you didn't read my review of the Firepeak Chardonnay, it is also a big time winner. This is a winery to remember.
CostcoWineBlog.com Rating: 92 Points
Costco item number: 345740