The past couple of weeks have been devastating for California residents as thousands were forced to flee their homes in the middle of the night to avoid being consumed by raging wildfires.
The tragedy of this situation is only beginning to unfold as rescue workers sort through piles of rubble and ash while residents return to their homes which may or may not still be standing.
Secondary to loss of life and personal property are the looming questions hanging over every wine lover's head: What is the damage to the California wine industry? Which wineries were affected the most? What does this mean for the future of California wine?
Wine Spectator's latest issue features over 250 California Cabernet wines from the 2014 vintage, "a classic year," as the cover proclaims. The 2014 vintage seems to be the latest in a three-year streak of good fortune for California winemakers.
Prices are likely to climb beginning with the 2015 vintage. Most winemakers in California will agree that the 2015 vintage was early and light, yielding an average of 20% less fruit than previous vintages, as the four-year drought finally caught up with production. Drought continued in 2016, and now the worst wildfires in California's history are threatening future production.
We wanted to show California wine some love and highlight fifteen of our favorite California Cabernet and Cabernet-based blends that are currently available at Costco. These wines were also featured in this month's issue of Wine Spectator, and should be available in one of the better vintages.
I am personally stocking up on 2012-2014 wines in case prices do happen to jump in the coming years. Please note that prices may vary from one Costco store to the next.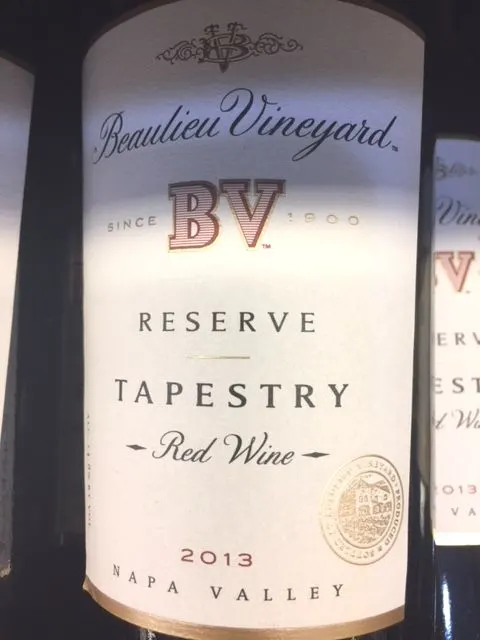 1. 2013 Beaulieu Vineyards Tapestry Reserve, Napa Valley $49.99
This Cabernet-based Bordeaux blend is dense and powerful, rich with red berries and cassis. Additional Merlot to this vintage softens the palate, and it finishes on an elegant note.
65% Cabernet Sauvignon, 22% Merlot, 5% Petit Verdot, 5% Malbec, 3% Cabernet Franc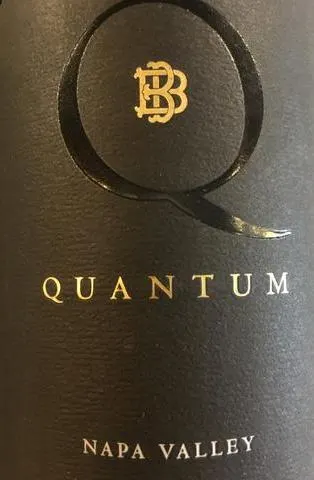 2. 2014 Beringer Quantum, Napa Valley $49.99
A muscular would-be Bordeaux blend if not for a small additional of Petite Syrah (5%). This wine is built to cellar, with 74% Cabernet providing black fruits and gripping tannins. Approachable now as well, with a sweet core of blackberry jam and hints of baking spice.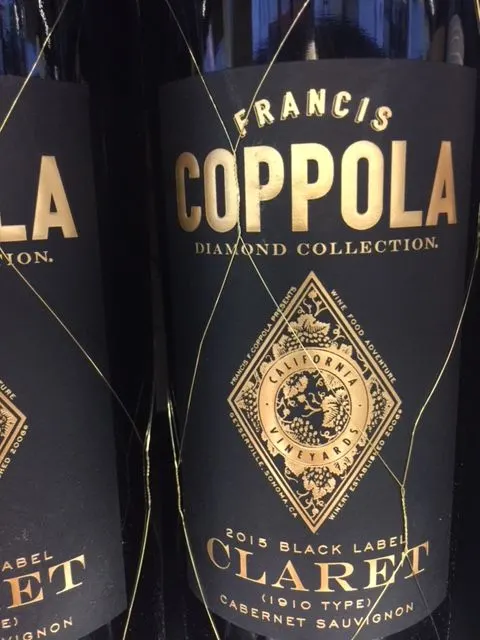 3. 2014 Coppola Black Label Claret $13.99
I've always thought this wine was a good value for its price range. Easily identifiable by the gold netting around the bottle, this four-grape Bordeaux blend delivers approachable weeknight structure with all that dark-fruit goodness you'd want from a California claret. 76% Cabernet Sauvignon, 16% Petit Verdot, 4% Cabernet Franc, 4% Merlot. [Read our full review]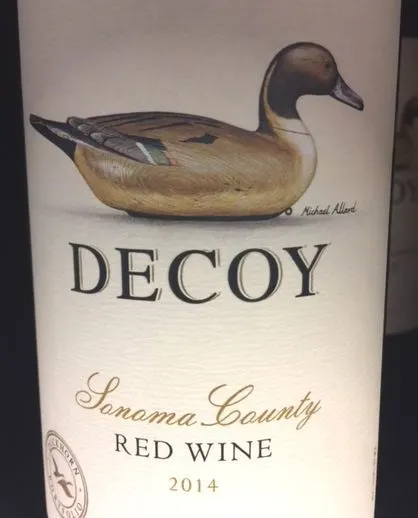 4. 2014 Decoy Red Blend, Sonoma County $17.99
This predominantly Merlot blend is dry with savory spices and blue fruits. This comes from a line of "everyday wines for the well informed" by Duckhorn Vineyards. Aged for 10 months in 100% French Oak, 40% of which is new, this is a good choice for those who like a nice balance of oak to fruit in their reds. [Read our review of the '13 vintage]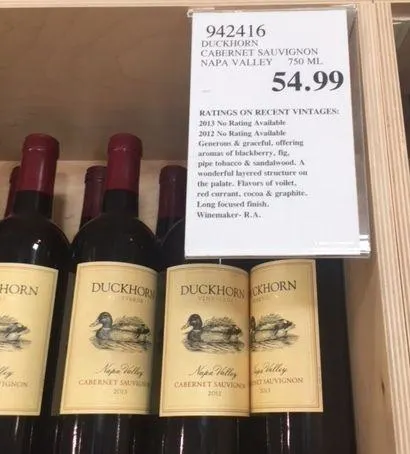 5. 2014 Duckhorn Cabernet, Napa Valley $54.99
This wine is actually blended with 13% Merlot and small amounts of Petit Verdot and Cabernet Franc, and has some high scores from wine critics. Robert Parker gives it an impressive 94 points with 92 points from Wine Spectator. This is a fantastic example of the great wines which came out of Napa in 2014, which yielded wines with ideal concentration, elegant tannins, and lovely varietal flavors. [Read our review of the '13 vintage]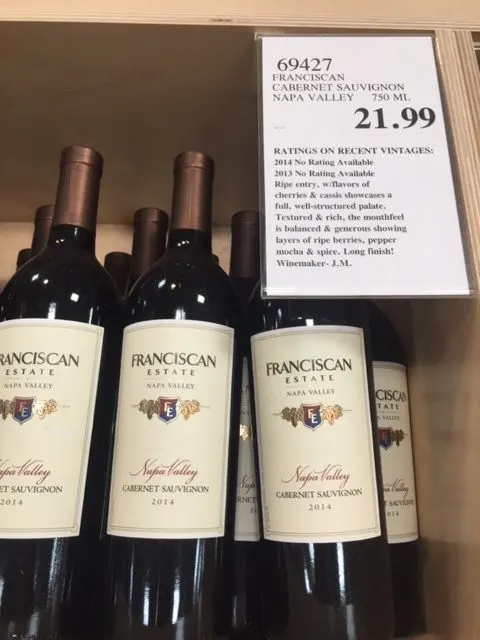 6. 2014 Franciscan Estate Cabernet, Napa Valley $21.99
This wine is oak-aged in small French oak barrels for 20 months, so if you like a big chewy Cabernet that's not overly fruity, this is the wine for you. This is the kind of wine that you want to drink with a steak.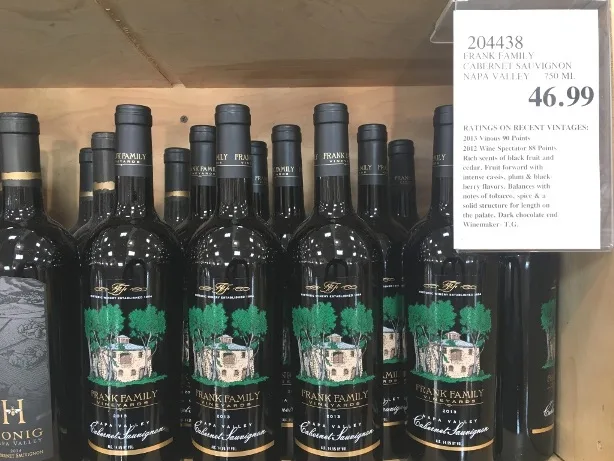 7. 2014 Frank Family Cabernet, Napa Valley $42.99
A little lighter in body than some of the other wines on this list, this wine is elegant and will cellar well over the next fifteen years. Blackcurrant, cocoa, and sweet spice flavors are balanced by youthful acidity and dusty tannins. [This wine was included on our recent list of top red wines to look for in your warehouse right now.]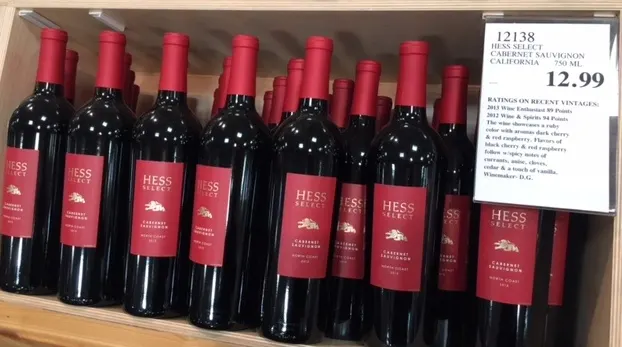 8. 2014 Hess Select Cabernet, North Coast $12.99
Costco has this wine for a killer price, and we gave it a glowing review earlier this year. Blended with small amounts of other varietals, this wine is aromatic, fruity, and well-balanced. [Read our full review.]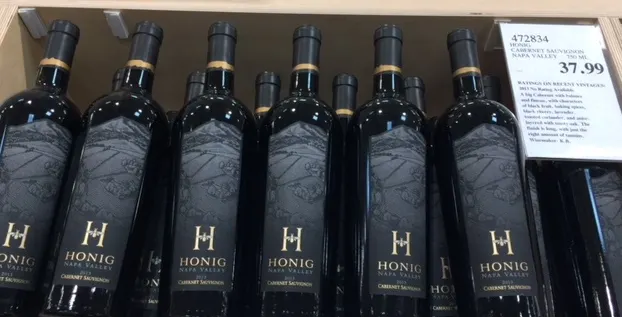 9. 2014 Honig Cabernet, Napa Valley $37.99
Aged in 100% American Oak (40% new) gives this wine excellent structure along with notes of toasted coconut and vanilla. With a core of ripe black fruits, this is my personal favorite of the list. [Read our full review.]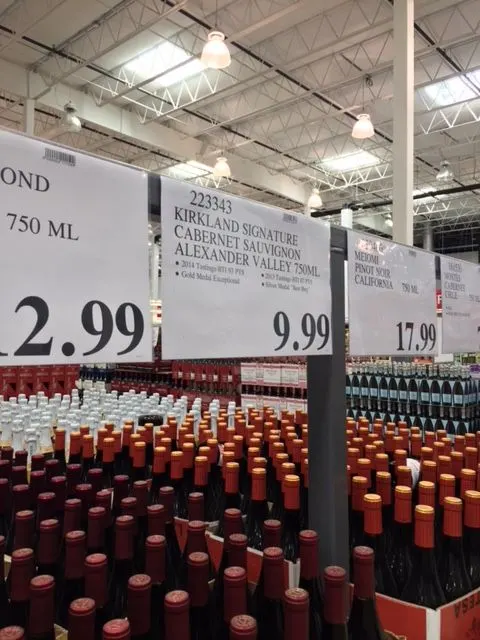 10. 2014 Kirkland Signature Cabernet, Alexander Valley $9.99
Floral aromas and cherry-driven red fruits make this another good value Kirkland wine. You'd be hard pressed to find another Alexander Valley Cabernet for this price and quality. [Read our full review.]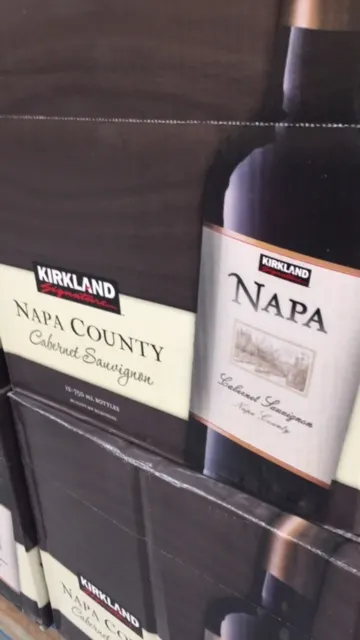 11. 2014 Kirkland Signature Cabernet, Napa County $12.99
Costco's private label version of Oberon, if you will, this wine delivers blackberry, mocha, and pepper with a robust, full body. Notable acidity hints at improvement with time. [Read our full review.]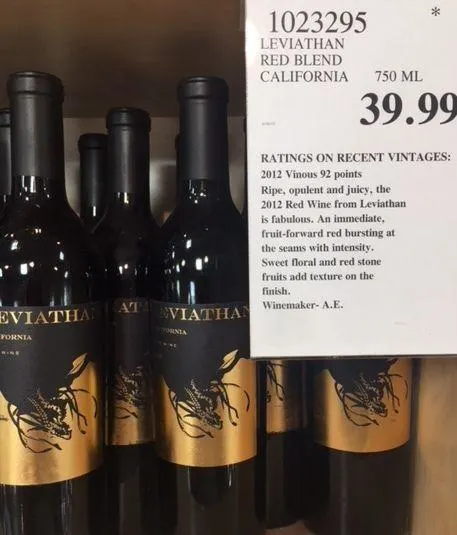 12. 2013 Leviathan Red Blend, Napa Valley $39.99
Earlier this year we gave the 2012 vintage of this wine a positive review, and the 2013 is equally as layered and expressive. A unique blend of 37% Cabernet, 32% Syrah, 24% Merlot, and 7% Cabernet Franc.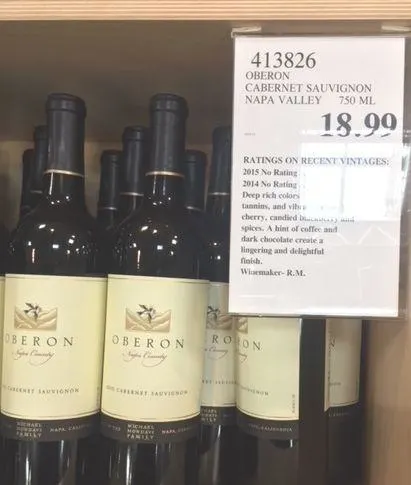 13. 2014 Oberon Cabernet, Napa County $18.99
An easy-drinking Cabernet, and a good value when you want a wine that's less than $20. Grapes are sourced from all over Napa County and the blend is over 95% Cabernet. Look for this vintage in the bottom of the bins because the 2015 has already been released.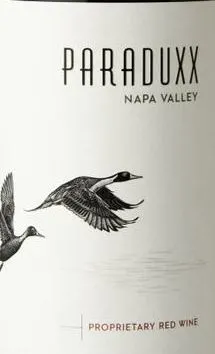 14. 2014 Paraduxx Proprietary Red, Napa Valley $38.99
Our third Duckhorn Vineyards wine on the list, it's clear that Costco loves this brand. Paraduxx is somewhat of a step up from the Decoy line of wines yet more affordable than the Duckhorn brand. This uncommon blend of Zinfandel, Cabernet, & Merlot has a floral nose and concentrated palate of red fruits with integrated tannins.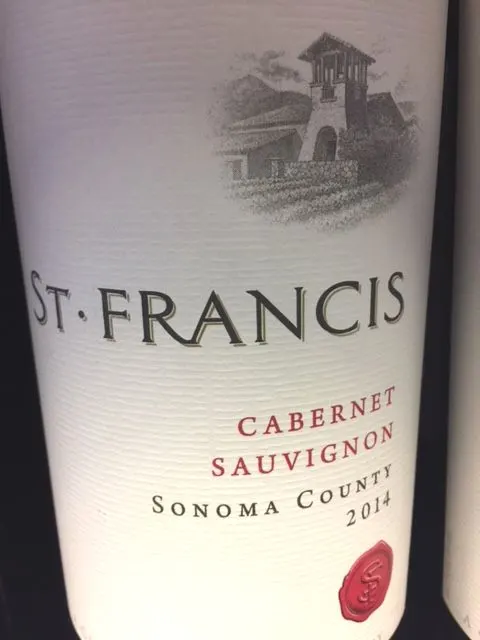 15. 2014 St. Francis Cabernet, Sonoma County $15.99
This is a fantastic wine for the price. Fruit-forward and lush, this wine stands well on its own. Although the price is friendly enough for an average Friday night, I would happily drink this on a special occasion.
Looking to Help?
Our friends at ILikeThisGrape.com have designed an awesome Vine Strong tshirt with 25% of the proceeds donated to the California Fire Relief GoFundMe. Support California wineries and those negatively impacted from fires – from farmers to winemakers.