I've always been curious about this European wine box that first showed up last year near me, but seemed to sell out fairly fast (and before I had a chance to grab one). It's back this year, at $29.99 which is the same price I believe as the prior year with a similar sampling of wines from France, Spain, Italy and Portugal.
It's taken me a little while to dig through these wines because I've spent the last week engulfed in the Wine Advent Calendars. But having opened all four of these bottles, I can say this box is one you might want to put on your list too. It's quite the value for the money, figuring you're only paying $7.50/bottle.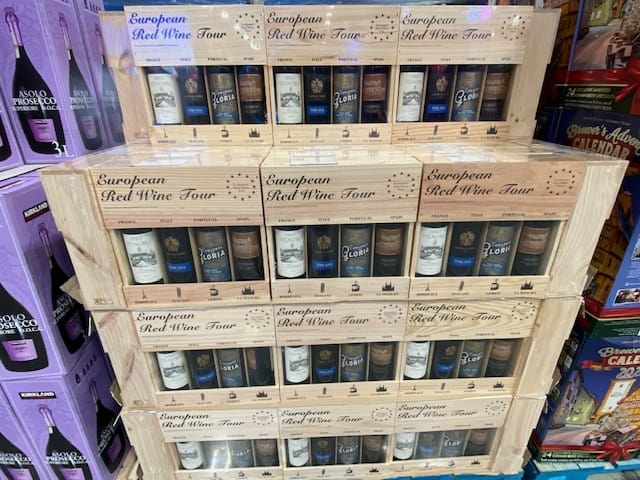 So here's what's inside with some quick tasting notes.
2018 Haut Vignobles Bordeaux
This is a Merlot and Cabernet Sauvignon blend; the wine is medium bodied, nice cherry fruit, plum flavor, dry and oaky finish. A nice Bordeaux.
2018 Campo al Moro Toscana
This is a 100% Sangiovese; pours a medium garnet in the glass; medium bodied, nice in the mouth and fruit forward; round cherry flavor; peppery in the finish; A perfect pizza wine.
2016 Tierra de Palacio Crianza
This wine is 100% Tempranillo; pours a medium ruby with dried fruit, cranberry on the nose; spicy black cherry, plum, cranberry flavors; finishes dry.
2019 Convento do Gloria
This wine is from Lisbon, Portugal and is comprised of 100% Tinto Roriz; it is pale purple on the pour, medium in body with dark fruit, blueberry and blackberry flavors; a touch of oak into a sticky finish. Nice wine.
The box this set comes in is pretty cool too. It's made in Bordeaux, and is sealed shut, so you have to pry it open to get the wines out (easily done with a flathead screwdriver).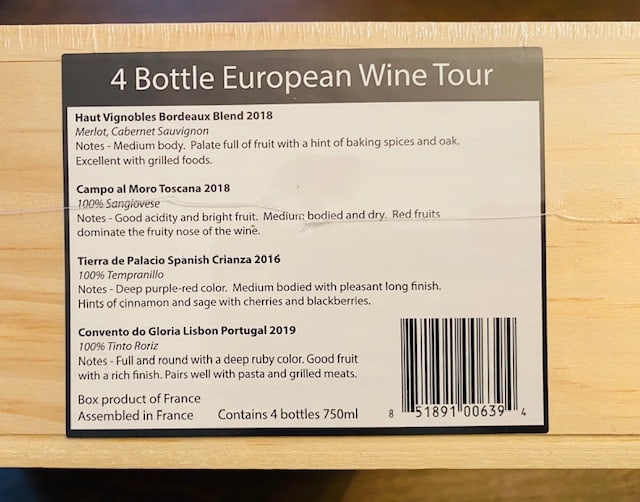 I'm not going to assign a rating for these wines. In my opinion, they would each land in that 86-88 point ballpark, which is pretty impressive at $7.50 a bottle.
Each wine is very reflective of its origin, and the box provides exactly what it promises, a nice tour of Europe with curated wine selections from many of the top areas. Enjoy.
Costco item number: 1480452
If you're interested in the wines of Europe and want to learn more about them in a quick, fun, easily digestible and non intimidating way, don't forget to check out our beginner guides on French wine, Spanish Wine and Italian wine.
This wine was received as a sample for the purpose of writing this review. All reviews are written at the discretion of the individual reviewer. Opinions of the reviewer do not necessarily reflect those of CostcoWineBlog.com as a whole, and reviewers are not paid for their reviews by wineries or their affiliated distributors. We at CostcoWineBlog.com believe that wine preferences and opinions are often subjective and highly individualistic. Our scores are based on our individual perception of a wine and how well it reflects the area in which the grapes are grown, the expression of the grapes, and also the quality of the finished product. We remind readers that we are 100% independent of Costco Wholesale Corporation, and are simply of a group of Costco wine fans looking to try new wines and share our favorites with this community.