We are still heavy on the look out for the latest vintage of the Kirkland Cotes du Rhone Villages that several readers found last month (not a lot of positive reviews coming in on it, which is a surprise, so I hope to taste soon). But I did find another Kirkland Rhone bottle we are always out on the look out for, the new 2019 Gigondas.
We've written in the past about how Costco's $14.99 Gigondas is an almost unheard of price for bottles from this region. And we've scored them pretty solid, mostly high 80s as I'll get into below. But when this caught my eye on the Costco wooden shelves, my attention immediately went to the price, which luckily stayed the same.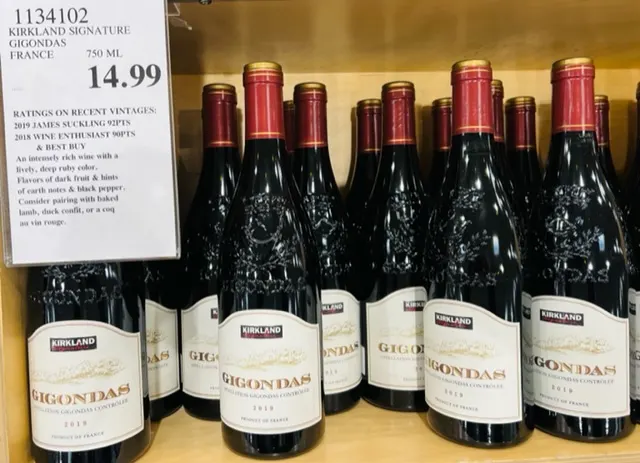 The blend has remained the same as the 2018 vintage at 85% Grenache, 10% Syrah, and 5% Mourvedre. The prior 2017 vintage had a bit more Syrah, less Grenache. Same winemaker too, Guillaume Gonnet, which is a prominent name around Rhone including Chateauneuf-du-pape.
Let's break down of our ratings of previous vintages of this bottle:
2015 87 Points
2016 88 Points
2017 86 Points
2018 88 Points
So we've jumped around a little bit, and it looks like the rollercoaster ratings year to year might continue with this 2019 vintage.
Getting into the wine, it pours a pale to medium ruby in the glass, lighter than my notes from last year indicate about the 2018 vintage. Dried fruit, earth and perfume on the nose. Flavors of black cherry, black licorice, plum, all a little muted.
The wine is more medium in body, compared to the larger body we noted on the prior vintage. The finish is super dry, wraps up pretty quick, reminiscent of our feelings about the 2017 vintage of this wine.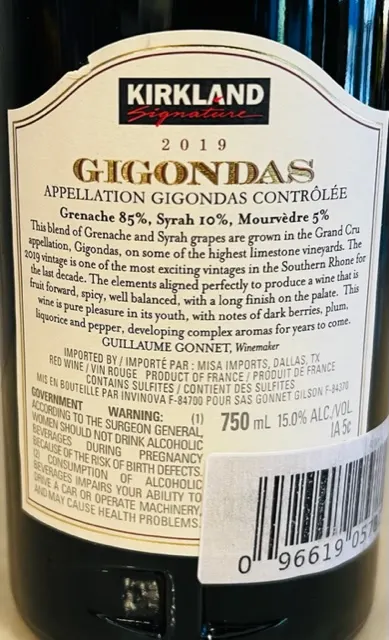 This wine demands some air time after opening. On the first pour and for the first 45 minutes, it is tight and closed, and can be misleading. I was starting to fall out of favor with it pretty fast, but then bam, at the one hour mark it turned a big corner and rebounded, starting to show its true self.
The fruit opened up, spice was more pronounced and the finish lengthened, making the wine way more interesting than it was at first. But still not a vintage of this wine that we're super in love with.
Hard to rate this, but I'm going 86 points. I'm hoping this will liven up with a little age, but I'm not going to bank on it and will probably wait for the next vintage. Let me know if you agree/disagree in the comments below. I'm curious what readers will have to say about this one, particularly in comparison to year's past.
CostcoWineBlog.com Rating: 86 points
Costco item number: 1134102
Purchased at Costco in: Atlanta, GA (Kennesaw)
Alc. 15%