Here's another popular Kirkland offering hitting stores just in time to be enjoyed during the holidays. And let's just stop for a minute to say how cool it is that Kirkland produces a Gigondas wine, and also continues to bring it in at the excellent price of $14.99.
We've noted before that few, if any bottles from Gigondas, are priced this low. So, like most Kirkland offerings, we are getting access to a premier wine area at a very low price.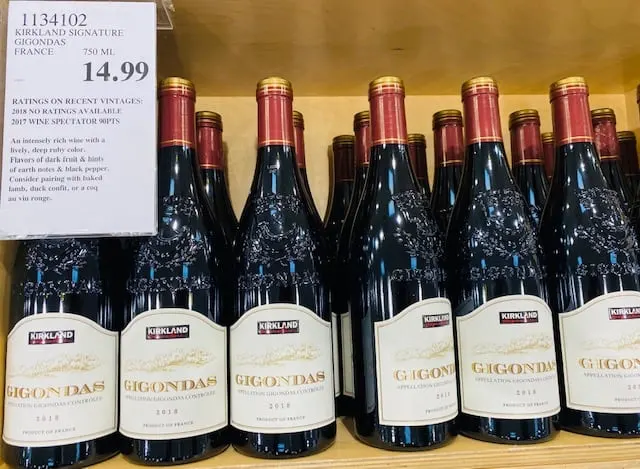 This is the fourth vintage of this wine, having made it's debut in 2015. And our scores have seen some movement over the years. We really enjoyed the 2015 and 2016 , but found the 2017 a little mediocre.
Here's a breakdown of our ratings of previous vintages:
2015 87 Points
2016 88 Points
2017 86 Points
The good news is we really enjoyed this current 2018 vintage, definitely a notch up from 2017 and we're going to bump up our rating back to 2016 levels. This year's wine is big and powerful, with a finish that towers over the previous vintage, which left a little to be desired in the finish.
The winemaker is once again Guillaume Gonnet, a prominent name around Rhone including Chateauneuf-du-pape. The blend this year is a little more Grenache dominant coming in at 85% Grenache, 10% Syrah, and 5% Mourvedre. Last year it was 75% Grenache, 20% Syrah.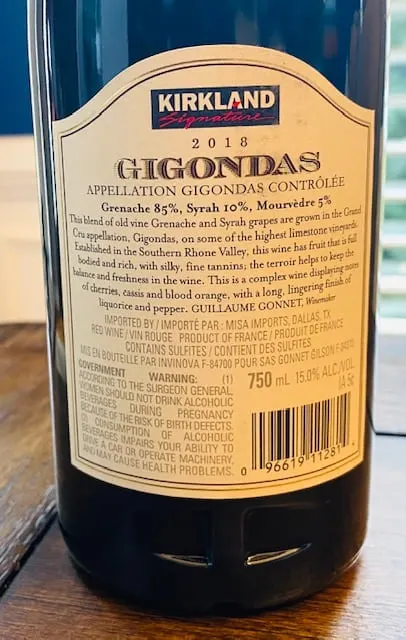 The wine pours a medium to deep ruby; perfume, dark fruit and pepper on the nose; the wine is full bodied and strong; spicy cherry and dark fruit flavor with a nice contrast and good depth; finish that is big and bold, peppery and acidic. This wine is definitely more on the powerhouse side of Rhone.
Please be sure to give this wine a little air. Right out of the bottle it is big and tight. I'd recommend a minimum of 30 minutes in the glass or a decanter.
It's nice to see this one deliver and I wish now I had bought a few more. This is a great wintertime and holiday wine, for meals, sitting by a fire or when you're just not certain what you want to open.
CostcoWineBlog.com Rating: 88 points
Costco item number: 1134102
Purchased at Costco in: Atlanta, GA (Kennesaw)
Alc. 15% (up a full 1% over 2017, powerhouse like I said)