This one arrived a little early this year, at least for us around the Atlanta area, but I've heard from several readers who have found it near them too. Last year I didn't see it appear until July.
In our review of the 2015 vintage, we noted the $1 price jump from the 2014 vintage which was only $6.99. Luckily, this new 2016 vintage still hung in there for $7.99, which again makes this wine an incredible value buy.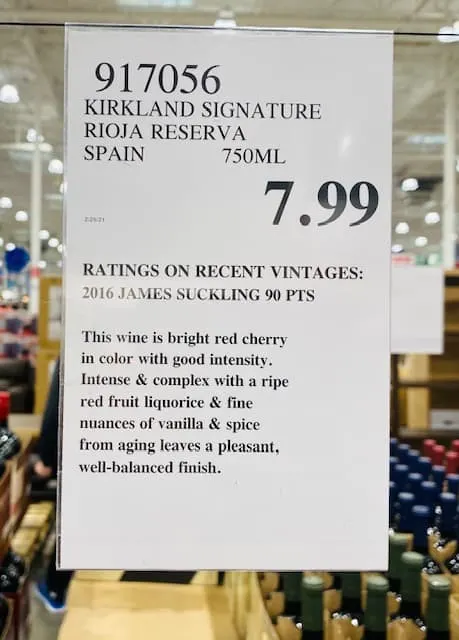 Let's take a quick look at our historical ratings for this wine.
2010 Kirkland Rioja: 88 points
2012 Kirkland Rioja: 87 points
2013 Kirkland Rioja: 88 points
2014 Kirkland Rioja: 88 points
2015 Kirkland Rioja: 88 points
We've been pretty consistent over the years, and not to be too boring, but our rating for this new 2016 vintage is going to stay right in line. This remains just a super solid Kirkland wine pick, and a must buy for Spanish wine fans.
The wine pours a medium ruby in the glass with spicy cherry and perfume on the nose. There's a nice contrast of red and dark fruit flavor, more dark fruit for me with this vintage. There's dominant black cherry but also a little blackberry and pomegranate; the wine is medium bodied with a spicy, lingering finish.
I'm glad I bought four bottles since this is just a perfect wine to have on hand. It's not one to pull out for a fancy meal, or to impress friends. But when you want a red to sip on during the week with an everyday meal, you can't go wrong. If you liked past vintages, this one is right in line.
CostcoWineBlog.com Rating: 88 points
Costco item number: 917056
Purchased at Costco in: Atlanta, GA (Kennesaw)
Alc. 13.5%