Another screaming buy for under $10, I was excited to dig into this wine. This is another one of those wines that I know I've read about somewhere, and made a mental note to remember it, so I would try it sometime. And that time is now.
At $7.99 it's a bargain; that's off of the retail price around $15, and you can still find it online hovering around Costco's price. But it doesn't matter that Costco's not bringing it in at a little more of a competitive price. This is a solid bottle for $8, and that's hard to find for a Cabernet.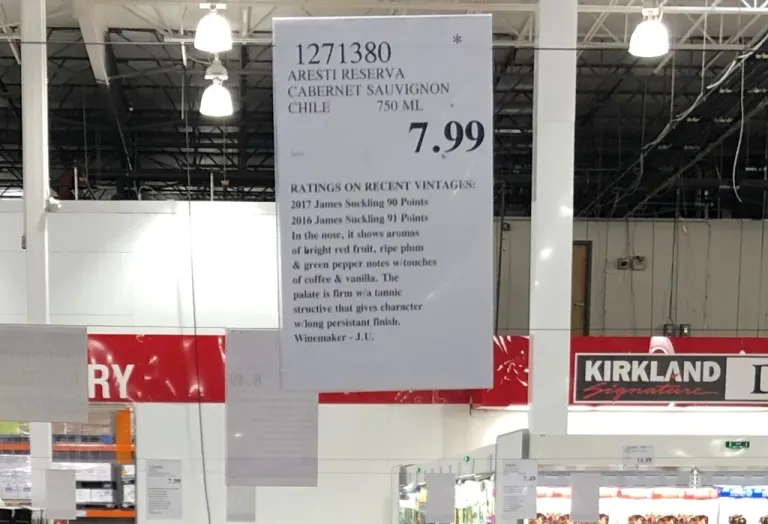 Medium purple in color, slightly see through, it was lighter than I expected. Lighter in body too, very much medium bodied; but the flavor packed it in; it's juicy and young on the nose. All I could think was a freshly opened jar of Juicy Juice. Flavors were cherry, black raspberry, and strawberry licorice.
The wine was pleasant and evened out with a little air; it's simple, easy and delicate; finishes mild, nicely done on this one across the board.
James Suckling went 91 points, which is proudly displayed on the bottle neck. It was a little simple for me to go that high, but I think it's a solid 88 point wine, and a big time value buy for those looking for a good, very drinkable red under $10. Better buy a few of them if you see it, as I imagine these will go fast.
CostcoWineBlog.com Rating: 88 points (a CostcoWineBlog Top Pick)
Costco item number: 1271380
Purchased at Costco in: Atlanta, GA
Alc. 13%