I spend a good number of my short lunch breaks bolting through the wine department of the Costco down the street from my job.
I don't have much time to linger and read labels, so I sort of scan the wood bins for new wines that peak my interest. I'll read descriptions, look for a rating, and quickly decide what I'll come back to buy later.
When I saw this bottle, I knew I would be back for it. I love Cabernet, and I know that most South American wines that I've tried have been solid values.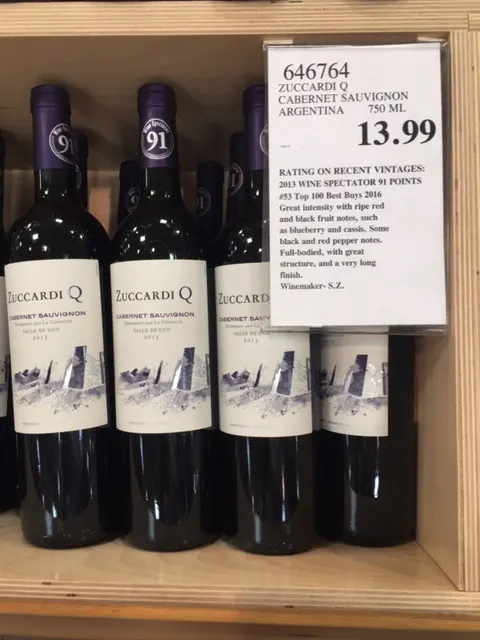 This one in particular is from the Valle de Uco (Uco Valley), arguably one of the top wine regions in Mendoza, Argentina. High elevation vineyards, alluvial soil, and a long growing season all combine to create an ideal place to grow wine grapes.
Also, this wine was on the Top 100 Best Buys of 2016 Wine Spectator list, so it must be pretty okay, right? For $13.99, I was willing to take the risk.
The wine features a savory and spicy nose of black pepper, curry, and under-ripe plums. Spice is again reflected on the palate alongside hints of balsamic vinegar, dark fruits and bold tannins. It took a while for the wine to open, so I would recommend a minimum one-hour decant.
It didn't smell or taste like Cabernet to me, something that Robert Parker also noticed, and he writes in his review of the wine "in reality is not all Cabernet, but the Cabernet is partly co-fermented with Malbec."
The tech sheet on the Zuccardi website lists the grape composition as 100% Cabernet Sauvignon, so I suppose the jury is still out on that one.
I think that the best way to approach this wine is with an open mind and one-hour decant. It's a generous designation, in my opinion, to place this wine on a top 100 list.
I think 88 points is fair after subtracting one point for a varietal identity crisis, then adding that point back for value.
Purchased in Cumming, Georgia
ABV: 14%
CostcoWineBlog.com Rating: 88 Points
Costco Item Number: 646764