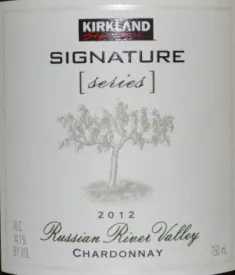 Editor's Note: An interesting thing happened as we reviewed this year's Kirkland Russian River Chardonnay. Two of us (myself and Michael) tasted the wine on our own, independently without each other knowing, and we came to two completely different conclusions. This is a first for the site, but I'm kind of glad it happened. This really demonstrates how wine reviews and opinions are personal, individual and different between people, which is something I've written about here before.
So here are our two reviews, written without any knowledge of the other person's opinion, and not edited whatsoever. And please feel free to leave a comment and let us know what you thought of this wine if you've tasted it.
I know I've said this before, but this wine will make me say it again – this is why you shop at Costco. Here's a Russian River Chardonnay that was only $12.99 at my store, and it tastes like similar Russian River wines that cost closer to $20. In the string of Chardonnays we reviewed this month, this might be the stand out, from both a taste and cost perspective.
Light aromas of floral and citrus; in the mouth this wine shows great depth at this price range. Strong body and mouth feel throughout; flavors of apple, pear and a little peach lead into a strong finish that lasts way longer than I was expecting. This wine permeates like few do for $13. There's a touch of oak on the end, which I thought was just the right amount so as to not mask the great fruit flavor. This is a heck of a deal, and a wine that I might stock up on for the summer. Perfect for a range of white wine friendly cuisine too.
This bottle will go on our Top Picks list. (not sure if I announced it officially but on the right hand side of the site there's a new green thumbs up button where we are tagging the latest wines we find at Costco that we recommend. This takes the place of the Value Picks, and Silver/Gold rating we used to have; now it's all on one page, and hopefully you can find the wines we list there at your Costco since we have bought them recently).
CostcoWineBlog.com Rating: 90 Points
Costco item number: 789895
Michael S' review of the Kirkland Signature 2012 Chardonnay – Russian River Valley
Jagger once sang: "Summer is here and the time is right for fighting for our chardonnay"…..or something like that. So we've been busy scouting summer chardonnay during recent months. Recently, Kirkland unveiled its Signature Series Russian River chardonnay. The timing was right….as was the $13 price point. And Russian River produces some killer chardonnay grapes. You can almost visualize the expressions on our faces as we sipped away at this freshly opened bottle and tasted weird, muddied, unpleasant notes, as if a 3 year old whose name is NOT Mozart was attempting the keyboards for the first time. No California butter, not much oak, few distinguishable fruit flavors and not even that dry. Yes, our faces revealed puzzlement, then surprise and finally disappointment. We sampled it over two days, and the second day didn't prove any better. While it was relatively smooth, its flavors were muddled. Normally, the Kirkland Signature Series boasts some pretty decent, and occasionally spectacular, fruit. Not this time or this year. Don't stock it until you've tried it.
Rating: 83 – and we might be charitable on this one.
San Diego, California